Miro Schleicher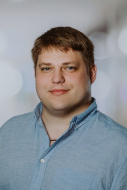 M.Sc. Miro Schleicher
Fakultät für Informatik (FIN)
AG KMD: Wissensmanagement und Wissensentdeckung

Universitätsplatz 2, 39106, Magdeburg, G29-R124
| | |
| --- | --- |
| since June 2018 | Research assistant at the Knowledge Management and Discovery Lab at the Otto-von-Guericke University |
| 04.16 - 06.18 | Master of Science "Business Informatics", Otto-von-Guericke University |
| 10.13 - 03.16 | Bachelor of Science "Business Informatics", Otto-von-Guericke University |
| 10.07 - 06.12 | 1. State Examination in "Vocational Teaching" with the subjects economy/administration and computer science, Otto-von-Guericke University |
Research interests:
Medical Mining
Compliance, Adherence and Dropout
Time Series and Trajectories
Prediction and Classification
2020
Vishnu Unnikrishnan, Yash Shah, Miro Schleicher, Mirela Strandzheva, Plamen Dimitrov, Doroteya Velikova, Rüdiger Pryss, Johannes Schobel, Winfried Schlee, and Myra Spiliopoulou. Predicting the Health Condition of mHealth App Users with Large Differences in the Number of Recorded Observations - Where to Learn from?. In Annalisa Appice, Grigorios Tsoumakas, Yannis Manolopoulos, and Stan Matwin (Eds.), DS, (12323):659-673, Springer, 2020. URL
Christian Beyer, Maik Büttner, Vishnu Unnikrishnan, Miro Schleicher, Eirini Ntoutsi, and Myra Spiliopoulou. Active feature acquisition on data streams under feature drift. Annals of Telecommunications, Jul 8, 2020. URL
2017
Miro Schleicher, Till Ittermann, Uli Niemann, Henry Völzke, and Myra Spiliopoulou. ICE: Interactive Classification Rule Exploration on Epidemiological Data. Proc. of the 30th IEEE Int. Symposium on Computer-Based Medical Systems (CBMS17), 606-611, Thessaloniki, Greece, 2017.