Clara Puga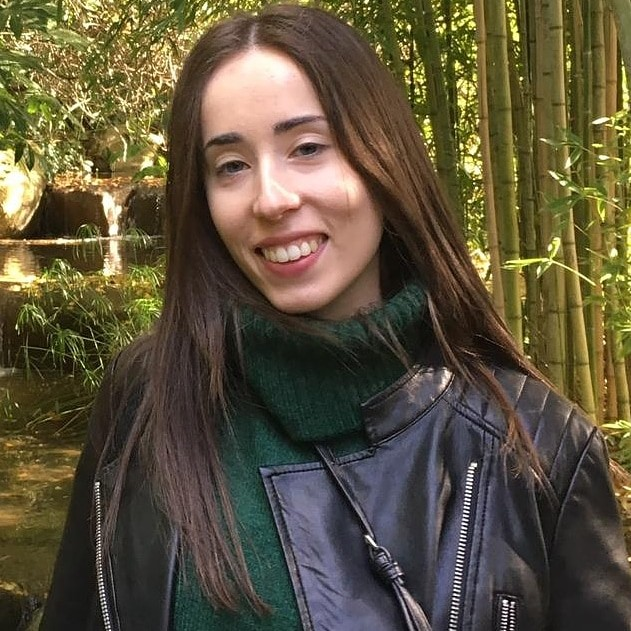 M.Sc. Clara Puga
Fakultät für Informatik (FIN)
AG KMD: Wissensmanagement und Wissensentdeckung

Universitätsplatz 2, 39106, Magdeburg, G29-R310
| | |
| --- | --- |
| since 07.20 | Research assistant at the Knowledge Management and Discovery Lab at the Otto-von-Guericke University |
| 02.18 - 07.20 | Worked as a data scientist in the logistics and banking industry |
| 10.13 - 08.18 | MSc in Industrial Engineering and Management, Faculty of Engineering of the University of Porto |
Research interests:
Applied graph theory

Multi-layer networks

Community detection algorithms

Uncertainty in learning
2023
Clara Puga, Uli Niemann, Winfried Schlee, and Myra Spiliopoulou. A cost-based multi-layer network approach for the discovery of patient phenotypes. International Journal of Data Science and Analytics, Springer Science and Business Media LLC, July 2023. URL
Jorge Piano Simoes, Stefan Schoisswohl, Winfried Schlee, Laura Basso, Alberto Bernal-Robledano, Benjamin Boecking, Rilana Cima, Sam Denys, Milena Engelke, Alba Escalera-Balsera, Alvaro Gallego-Martinez, Silvano Gallus, Dimitris Kikidis, Jose A Lopez-Escamez, Steven C Marcrum, Nikolaos Markatos, Juan Martin-Lagos, Marta Martinez-Martinez, Birgit Mazurek, Evgenia Vassou, Carlotta Micaela Jarach, Nicolas Mueller-Locatelli, Patrick Neff, Uli Niemann, Hafez Kader Omar, Clara Puga, Miro Schleicher, Vishnu Unnikrishna, Patricia Perez-Carpena, Rüdiger Pryss, Paula Robles-Bolivar, Matthias Rose, Martin Schecklmann, Tabea Schiele, Johannes Schobel, Myra Spiliopoulou, Sabine Stark, Carsten Vogel, Nina Wunder, Zoi Zachou, and Berthold Langguth. The statistical analysis plan for the unification of treatments and interventions for tinnitus patients randomized clinical trial (UNITI-RCT). Trials, (24)1:472, Springer, 2023.
2022
Clara Puga, Miro Schleicher, Uli Niemann, Vishnu Unnikrishnan, Benjamin Boecking, Petra Brueggemann, Jorge Simoes, Berthold Langguth, Winfried Schlee, Birgit Mazurek, and Myra Spiliopoulou. Juxtaposing Medical Centers Using Different Questionnaires Through Score Predictors. In Andreas K. Maier (Eds.), Frontiers in Neuroscience, (16)Frontiers Media SA, March 2022. URL
2021
Clara Puga, Uli Niemann, Vishnu Unnikrishnan, Miro Schleicher, Winfried Schlee, and Myra Spiliopoulou. Discovery of Patient Phenotypes through Multi-layer Network Analysis on the Example of Tinnitus. 2021 IEEE 8th International Conference on Data Science and Advanced Analytics (DSAA), 1--10, IEEE, 2021. URL
Winfried Schlee, Stefan Schoisswohl, Susanne Staudinger, Axel Schiller, Astrid Lehner, Berthold Langguth, Martin Schecklmann, Jorge Simoes, Patrick Neff, Steven C Marcrum, Myra Spiliopoulou, Uli Niemann, Miro Schleicher, Vishnu Unnikrishnan, Clara Puga, Lena Mulansky, Ruediger Pryss, Carsten Vogel, Johannes Allgaier, Efi Giannopoulou, Katalin Birki, Klairi Liakou, Rilana Cima, Johan W S Vlaeyen, Nicolas Verhaert, Saskia Ranson, Birgit Mazurek, Petra Brueggemann, Benjamin Boecking, Nyamaa Amarjargal, Sandy Specht, Alexandra Stege, Michael Hummel, Matthias Rose, Kevin Oppel, Juliane Dettling-Papargyris, Jose Antonio Lopez-Escamez, Sana Amanat, Alvaro Gallego-Martinez, Alba Escalera-Balsera, Juan Manuel Espinosa-Sanchez, Juan Garcia-Valdecasas, Maria Mata-Ferron, Juan Martin-Lagos, Maria Martinez-Martinez, María Jesús Martinez-Martinez, Nicolas Müller-Locatelli, Patricia Perez-Carpena, Jorge Alcazar-Beltran, Leyre Hidalgo-Lopez, Eleftheria Vellidou, Michalis Sarafidis, Panagiotis Katrakazas, Vassileia Kostaridou, Dimitris Koutsouris, Rano Manta, Evangelos Paraskevopoulos, Maria Haritou, Ana Belén Elgoyhen, Hazel Goedhart, Michael Koller, Giriraj Singh Shekhawat, Holger Crump, Ronny Hannemann, Marc Holfelder, Timon Oberholzer, Apostolos Vontas, Ilias Trochidis, Vicky Moumtzi, Christopher R Cederroth, Konstantina Koloutsou, George Spanoudakis, Ioannis Basdekis, Silvano Gallus, Alessandra Lugo, Chiara Stival, Elisa Borroni, Nikolaos Markatos, Athanasios Bibas, and Dimitris Kikidis. Towards a unification of treatments and interventions for tinnitus patients: The EU research and innovation action UNITI. Progress in brain research, (260):441—451, 2021. URL